Tree Services in Edmonton, Sherwood Park, St. Albert, Leduc & Beaumont
Expert Tree Advisors for Your Next Landscaping Project.
Sometimes it is hard to see the forest through the trees when planning your landscaping project. As a result, questions often arise, such as "Which trees are best for a certain area or soil type?" Or "How do I choose an ornamental tree that will add colour and fruit or flowers to my yard for years to come?"More Trees Please is your Alberta Tree Service Specialist. We help you to choose, plan and purchase trees for your next landscaping project. At More Trees Please, our team of experienced arborists can assist in selecting the perfect trees for your property. Whether you are looking for shade, ornamental, or fruit-bearing trees, we have various options to suit your needs. We also offer planting and maintenance services to ensure your new additions thrive and bring beauty to your landscaping for years to come.
Contact us today or call us at 780-446-0414 for a consultation in Edmonton, Sherwood Park, St. Albert, Leduc, or Beaumont.
How We Can Help.
Tree pick-up and tree delivery from our stock and partner tree farms
Tree transplanting and initial watering
Aftercare services, including mulch delivery and soil delivery, staking
Soil delivery, mulch delivery or removal
Tree transplanting and root removal
Our certified Edmonton arborists provide professional tree services including tree pruning, tree trimming, aftercare & more. We are passionate about maintaining the integrity of the environment and are fully licensed & insured.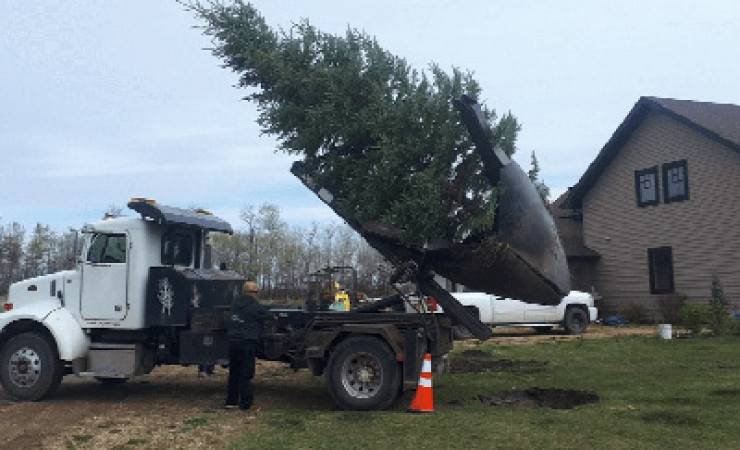 Do You Do Tree Maintenance?
Yes, we offer tree pruning and maintenance services for both individual trees and commercial properties or condo associations. Proper pruning is essential for the health and appearance of your trees. Our team of experienced professionals will ensure that your trees are properly taken care of. Contact us today or call us at 780-446-0414 to schedule a consultation.
The Tree Pruning Experts in Edmonton You Can Trust
Tree pruning is the process of selectively removing certain branches or parts of a tree for the purpose of improving its health, appearance, and safety. The practice involves carefully cutting away unwanted or damaged branches or limbs to help the tree grow more efficiently and to prevent potential hazards.
Pruning can be done for a variety of reasons, such as removing diseased or dead branches, shaping the tree to promote better growth, improving sunlight penetration and air circulation within the tree's canopy, or reducing the weight of heavy limbs that may be at risk of breaking off during a storm. Pruning can be done at any time of year, but the best time to prune a tree depends on the specific species and the reason for pruning.
At More Trees Please, our certified Edmonton arborists posses the knowledge, skills and tools to safely remove branches without causing damage to the tree or surrounding environment.
Tips to Ensure the Greatest Chance of Survival.
As with any living thing, proper care and attention are necessary for a tree to thrive. Regular watering, staking, and pruning are essential to ensure the health and longevity of your tree. Additionally, adding topsoil to fill the cut line left by transplanting and laying down a mulch bed can help stabilize the roots and prevent weed growth. These steps will give your tree the best chance at survival and growth in its new home. Finally, don't forget to apply wound healing on any scraped bark to aid in recovery and prevent infection. (We do our best to do the least damage to the tree en route, but larger trees can be fragile; older trees can get brittle with age, just like us!) With the proper care, your tree will be a beautiful addition to your landscape for years to come.
More trees please is committed to enhancing communities by providing a variety of trees services related to planting and transplanting. We minimize our environmental impact by using state-of-the-art equipment and by following proper planting/transplanting techniques. This gives the trees we handle the best opportunity to thrive. On the rare occasion that a tree does not survive, our team will work with the landowners to figure out why. Our wide range of products, specialized knowledge, and service ensure that both the trees and customers are happy.
Frequently Asked Questions
When should I consider hiring a professional tree service?
You should consider hiring a tree service when you need assistance with tasks such as tree removal, pruning, disease diagnosis, or assessing the health of your trees. It's essential to consult a professional for potentially hazardous or complex tree-related issues.
How often should I trim or prune my trees?
The frequency of tree trimming or pruning depends on the tree species and its growth rate. Generally, most trees benefit from pruning every 3-5 years to maintain their health, shape, and safety.
What should I expect during a tree service consultation?
During a consultation, one of our certified arborists will assess your trees, discuss your concerns and objectives, provide recommendations, and offer a cost estimate for the services required. It's also an opportunity to ask questions and address any specific concerns.
How much do tree services typically cost?
The cost of tree services can vary significantly depending on factors like tree size, location, complexity, and the type of service needed. Smaller jobs, such as tree trimming, may cost a few hundred dollars, while large tree removals can cost much more.
Looking for Trusted Tree Services in Edmonton, Sherwood Park, St. Albert, Leduc or Beaumont ?
Contact us today for tree pick-up, tree delivery, tree transplanting, aftercare services, soil delivery, mulch delivery or root removal.