We are proud to offer tree transplanting services in Edmonton, Sherwood Park and Beaumont.
Why We Do What We Do
More Trees Offers expert tree-moving services. There are many reasons to move a tree—achieve more privacy, meet property requirements, or keep that "grade one spruce" in the family. Any reason for tree moving, tree removal or tree transplanting is a good one—we love our trees too. And we don't discriminate—it doesn't matter what size, shape, or type of tree, we can provide trusted tree moving services to help you take care of it!
Before you call us, contact Alberta One-Call. We cannot dig out a root ball without knowing what electrical infrastructure and piping exist around it.
Call More Trees Please to book an appointment once Alberta One-Call gives you a locate slip; this will provide information on buried lines in conflict with the dig area and instruct us on how to dig safely.
To keep costs down, we often take time for a detailed phone conversation to figure out what you need to be done.
We sign a Service Agreement to ensure everyone is on the same page about the job. *Some jobs require a deposit
You prep your yard, as discussed in the first meeting.
We move your tree.
We provide mulch delivery and soil delivery after tree transplanting.
To make things convenient for you, we invoice right on-site and accept debit, credit and cash.
Let Us Handle All of Your Tree-Related Needs.
Are you looking to add some new foliage to your landscaping? Or maybe you have a tree that's becoming a nuisance and needs to be removed. Look no further - our team at More Tree Services is here to help. With years of experience and the proper equipment, we can safely remove or transplant trees in any location. Plus, our prices are affordable and our track record of satisfied customers speaks for itself. Click here to request a quote or call us at 780-446-0414.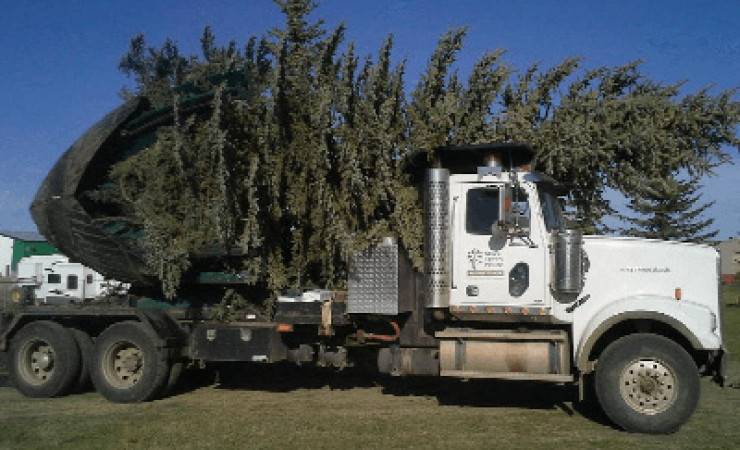 What to Expect When Transplanting a Tree
We Do Our Best to Preserve Your Existing Landscaping.
We are not finishing landscapers, and sometimes, because we require large, heavy equipment to do a job, existing landscaping can be damaged during tree removal or tree transplanting. Depending on weather conditions, soil type and equipment type, there is sometimes some collateral damage. BUT, we do our best to make it look like we were never there. To keep things economical for everyone, we believe in give and take. We do our best to be on-site on time and give you a window of time when we will show up. The reason we do this? To keep costs down for you! Because it costs money to travel with our equipment (it's big and wide and slow) we work on an on-call basis, and we have to finish jobs in the queue before you. We also work in an industry where there are sometimes unforeseen circumstances—for example, weather changes, big boulders underground that won't let our shovel go any farther—and we appreciate your flexibility and understanding. We work as fast as conditions allow us, but doing the job right is our priority.
Tree Removal in Edmonton and Nearby Areas

More Trees Please provides trusted tree removal services in Edmonton and nearby areas. There are many reasons to consider removing a tree, such as safety, aesthetics, or even environmental reasons. Trees are alive, and like every living organism, they continue to grow, can become sick, and eventually die. When a tree is growing too close to power lines or any structure, contracts a disease, or begins to decay, it can pose a hazardous risk to your family, property, and even surrounding infrastructure. When this happens, the only option is to have the tree removed. Tree removal should not be looked at as a weekend DIY project. To be appropriately executed, removal requires specialized equipment and expert knowledge. Instead of risking harm to yourself, like a serious fall or injury, it is safer to depend on our fully licensed and insured arborists to get the job done. Stump grinding and removal allow for a replant in the future, prevent mower damage, and remove the liability of tripping/injury.
Whether you require professional arborists in Edmonton, Sherwood Park, St. Albert, Leduc or Beaumont, More Trees Please has the experienced staff and expert equipment to get the job done.
Once the Tree Is Planted, We'll Give You All the Tips and Tricks for Taking Care of It.
Need some mulch or soil? No problem - just let us know and we can deliver it to your doorstep. And if you need a little extra help with watering, we can come by and do it for you (for a small fee, of course, wink, wink.). But at the end of the day, it's up to you to ensure your tree stays healthy and strong. Trust us, it'll be worth it in the long run! So go ahead, give your tree some TLC and watch it thrive. Happy planting!
Water Is Key to Tree Health and Survival, Especially During Transport.
While watering the tree before transport may cause a heavier root ball, it also means less stress to the tree during transportation. Trees are living organisms and need water to survive; without proper hydration, they will quickly succumb to stress and die. ensuring that trees have enough water during transport is essential to their health and safety. In addition to watering before transport, it is also important to monitor the tree's moisture levels during transport and after arrival at its destination. If the tree begins to dry out, it will need additional water immediately. By keeping a close eye on the tree's hydration, we can ensure that it remains healthy and strong throughout the entire transportation process.
Frequently Asked Questions
Why would someone consider moving a tree?
There are several reasons for moving a tree, including property development, landscaping changes, or preserving a valuable, mature tree that might be threatened by construction or disease.
Can any tree be moved?
While many tree species can be moved successfully, the chances of survival depend on factors like the tree's age, size, species, and health. Younger trees tend to adapt better to transplantation than older, larger ones.
When is the best time to move a tree?
The optimal time for tree moving is during the dormant season, typically in late fall or early spring when the tree is not actively growing. However, some trees can be moved successfully during the growing season with proper care.
How should I care for a tree after it has been moved?
Proper care after transplantation is crucial. This includes regular watering, mulching, and monitoring for signs of stress or disease. Our certified arborists can provide specific care instructions based on the tree species and local conditions.
When you need a professional arborist, call More Trees Please
Alberta Tree Service Specialists
We have the experienced staff to move any number or size of trees - from small to large trees!
More Info: Tree Services
Contact Us Today For Tree Moving Service
Whether you require professional arborists in Edmonton, Sherwood Park, St. Albert Leduc or Beaumont, More Trees Please has the experienced staff and expert equipment to get the job done.
Contact Us
Looking for Tree Moving Services?
We can help with tree moving, tree removal or tree transplanting in Edmonton, Sherwood Park, St. Albert Leduc & Beaumont.