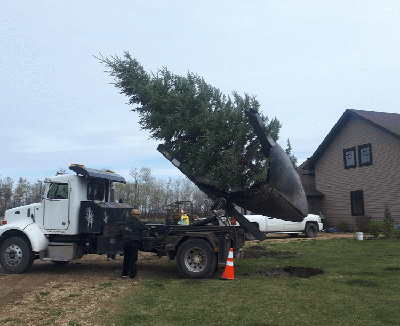 Tree Service in Edmonton Sherwood Park, St. Albert, Leduc & Beaumont
Expert Advisors for Your Next Landscaping Project.
Sometimes it is hard to see the forest through the trees when planning your landscaping project. Questions often arise, such as "Which trees are best for a certain area or soil type?" Or "How do I choose an ornamental tree that will add colour and fruit or flowers to my yard for years to come?"
More Trees Please is your Alberta Tree Service Specialist. We help you to choose, plan and purchase trees for your next landscaping project.
How We Can Help.
Tree pick-up and tree delivery from our stock and partner tree farms
Tree transplanting and initial watering
Aftercare services, including mulch delivery and soil delivery, staking
Soil delivery, mulch delivery or removal
Tree transplanting and root removal
Do you do tree pruning and maintenance?
We would be happy to prune your trees whether you have an individual tree or a commercial property or condo association. Proper pruning is very important to the future health and looks of your trees.
Tips to Ensure the Greatest Chance of Survival.
Water at the proper frequency—this depends on the type of tree and soil.
Stake the tree and tie it off to secure the root ball
Fill the cut line with topsoil.
Put down a mulch bed to prevent water from evaporating and weeds from growing in and stabilizing the soil surrounding the tree.
Prune damaged limbs
Apply wound heal on scraped bark (We do our best to do the least amount of damage to the tree en-route, but larger trees can be fragile; older trees can get brittle with age, just like us!)
More trees please is committed to enhancing communities by providing a variety of trees services related to planting and transplanting. We minimize our environmental impact by using state-of-the-art equipment and by following proper planting/transplanting techniques. This gives the trees we handle the best opportunity to thrive. On the rare occasion that a tree does not survive, our team will work with the landowners to figure out why. Our wide range of products, specialized knowledge, and service ensure that both the trees and customers are happy.
Looking for Trusted Tree Services in Edmonton, Sherwood Park, St. Albert, Leduc or Beaumont ?
Contact us today for tree pick-up, tree delivery, tree transplanting, aftercare services, soil delivery, mulch delivery or root removal.